Moisture Control:
Wet Crawl Space
Basements and crawl spaces in Minnesota are put through a lot. There's the driving spring rains, high-humidity summers, the winter deep-freeze, and a deluge of melting snow afterward. If your crawl space is exposed, chances are you have some water intrusion at one point of the year or another.
Wet crawl spaces in Minneapolis-St. Paul homes are not to be ignored. You may not notice problems right away, but by the time you do notice a musty smell, insect pests, or mold spots on wooden support beams, it will be a costly repair job. Thankfully, you can get ahead of wet crawl space issues in your Minneapolis-St. Paul home by calling the experts at SafeBasements™. Whether it's installing a basement dehumidifier or fully encapsulating your crawl space, our seasoned professionals help keep your home healthy and safe.
SafeBasements SOLUTION:
New Sump Pump
Drain Tile
Install Dehumidifier
Encapsulation
SafeBasements ENGINEERED PRODUCTS THAT WE STAND BY
SafeBasement™ Sump Pump
One major source of basement humidity in Minneapolis-St. Paul homes is pooling water in the basement, usually the result of seepage through foundation cracks or a sudden, intense storm. Our sump pumps keep Minneapolis-St. Paul homes dry by collecting and pumping out excess water, reducing humidity levels throughout your entire home. We also make sure the sump pit is properly sealed so no harmful gasses escape from the soil into your home. In addition to a sump pump installation, make sure you have any basement wall cracks sealed to prevent further water seepage.
SafeBasements™ Interior Drain Tile System
Designed to work alongside the sump pump, our interior drain tile systems offer Minneapolis-St. Paul homeowners complete moisture protection. Drain tiles installed in the interior perimeter of your basement collect water and send it to the sump pit, while our patented SafeEdge™ design seals the edge of the tile system so no radon or other soil gasses seep into your basement. In addition to protecting your home while you live there, our warranty is also fully transferable to help with the resale of your property.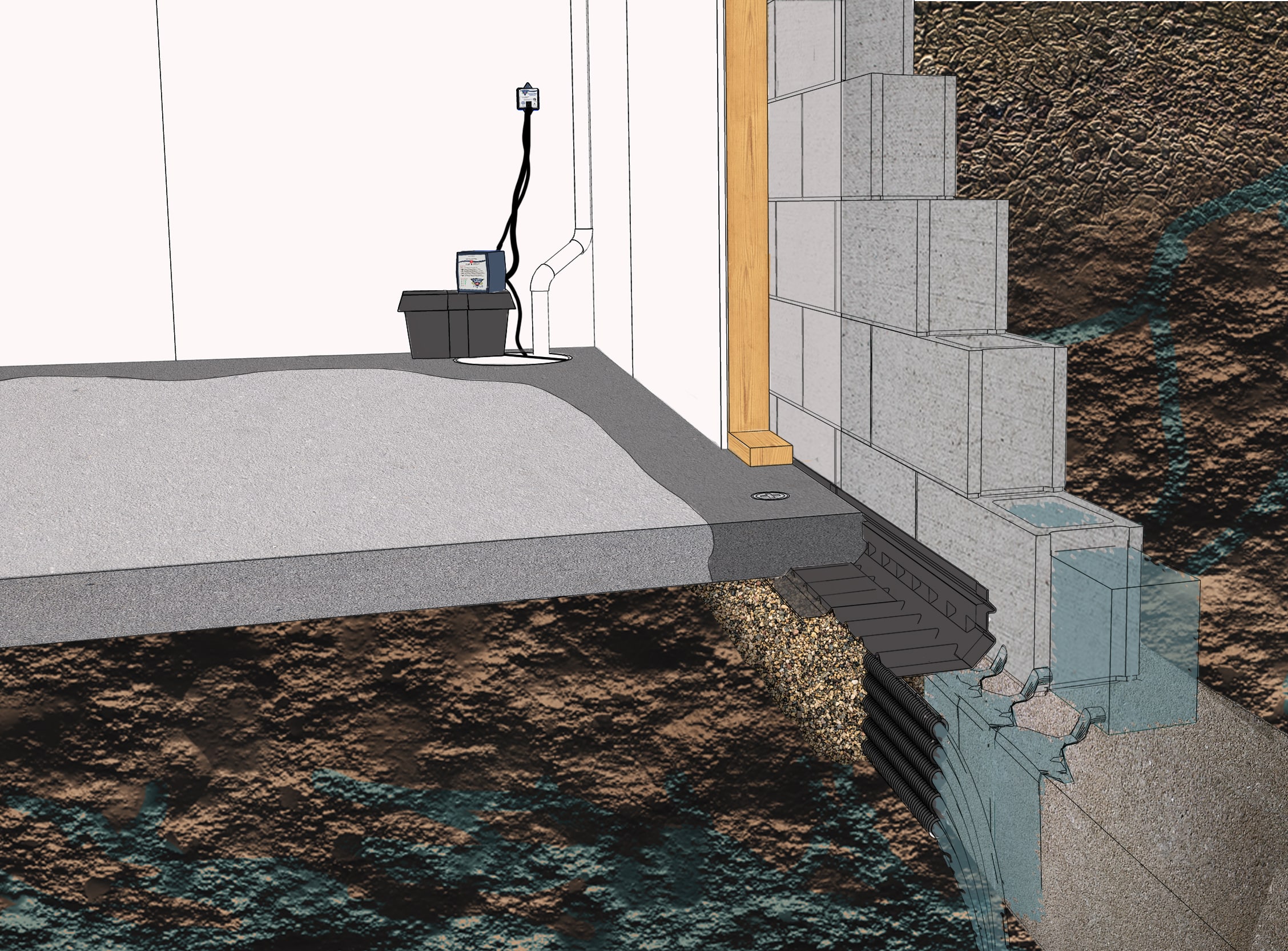 Basement Dehumidifiers
As the local basement waterproofing experts, we have installed countless dehumidifiers and solved many Minneapolis-St. Paul's home basement humidity challenges. We have the right size humidifer for your home, and our expert team will make sure it is installed in just the right place. These handy devices remove excess moisture from the air automatically, maintaining the air quality of your home and preventing mold buildup.