BASEMENT FOUNDATION REPAIR IN HASTINGS, MN
Push Pier Installation
You've always loved the charm of your old, stately home. Recently though, things have started to change. Doors and windows that used to glide smoothly now stick or won't open at all. The murals you've always adored are being torn apart by cracks spreading across your basement walls. The foundation of your Hastings home is sinking slowly as a costly repair is creeping up. As you look outside, you notice your home slowly succumbing to the pull of the earth. How could your beloved home crumble into the ground? Just when despair starts to gnaw at you, you discover the beacon of hope that is SafeBasements™.
Here's how to detect if you have a problem with foundation settlement:
Doors and windows become stubborn or immobile due to sloping floors.
Cracks appear on both sides of your foundation walls.
Corners of door and window frames crack and crumble.
Parts of your home sink visibly into the ground.
SafeBasements­™ SOLUTION:
SafeBasements implements two exceptional and time-proven methods to tackle settlement problems in the Hastings, MN area: the Push Pier System and the Helical Pier System.
SafeBasements ENGINEERED PRODUCTS THAT WE STAND BY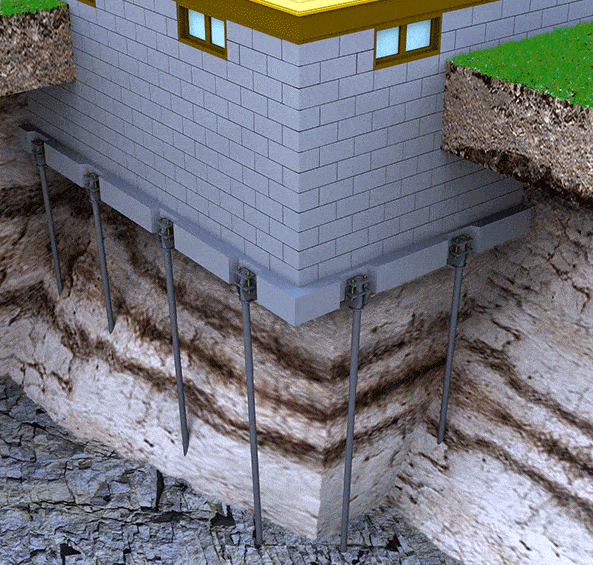 SafeBasements Patented Push Pier System
Our Saber Tooth™ push pier system is a patented and reputable foundation repair solution for basements in Hastings, MN on shaky ground. Crafted from the toughest materials right here in Minnesota, our piers have the grit to stand up to the most demanding elements. These pilings are hydraulically driven through unstable earth until finding solid, stable strata that can provide the support your home needs. Backed by our Lifetime transferable warranty, this system promises an unyielding shield against settlement problems.
SafeBasements Helical Piers
For varied situations, the SafeBasements helical pier system offers a distinct solution for Hastings homes. Unlike the push pier system, helical piers are deployed by "screwing" them into the soil until they reach a stable layer. These piers come with the same lifetime transferable warranty and have utility for everything from correcting sinking decks and porches to new construction.
Lifetime Transferable Warranty
The SafeBasements lifetime transferable warranty is a testament to our confidence in our solutions. It not only covers your home in Hastings for its lifetime in basement foundation repair but also extends to the owners who newly purchased it, ensuring your home remains a haven for generations to come. SafeBasements restores peace of mind, one home at a time.