Basement Water Mitigation in Hastings
If you are a homeowner, water in your basement can be a serious problem. Even if the area isn't finished, the moisture can still cause damage to your property and foundation. That's why it is essential to take action quickly to stop the leak from becoming worse. SafeBasements™ offers a range of basement water mitigation services in Fargo-Moorhead for homeowners.
SafeBasements™ SOLUTION:
Install Sump Pump/Sump pit
Drain Tile System
Dehumidifier unit
Encapsulate crawl space
SafeBasements™ ENGINEERED PRODUCTS WE STAND BY
Sump Pump
The SafeBasement™ Sump Pump is energy efficient and will kick on during storms to collect and pump out any water that collects in the basement. By reducing moisture levels, sump pumps also improve the air quality in the home. Our basement water mitigation team in Hastings fits these proprietary pumps with a lid and seal to prevent additional moisture and toxic gases from entering the residence.
Drain Tile
The SafeBasements™ Interior Drain Tile System is an advanced form of drainage system, with each proprietary component offering an advantage over traditional systems. Our SafeEdge™ drainage channel, for instance, has a rubber seal to prevent moisture and radon gas from entering your house. Once installed around the perimeter of your basement footer, our Multi-Flow™ drain tile forms five stages of water flow that keeps the water table low and prevents hydrostatic pressure from damaging the concrete. Plus, our entire Drain Tile System is backed by a lifetime, transferable warranty.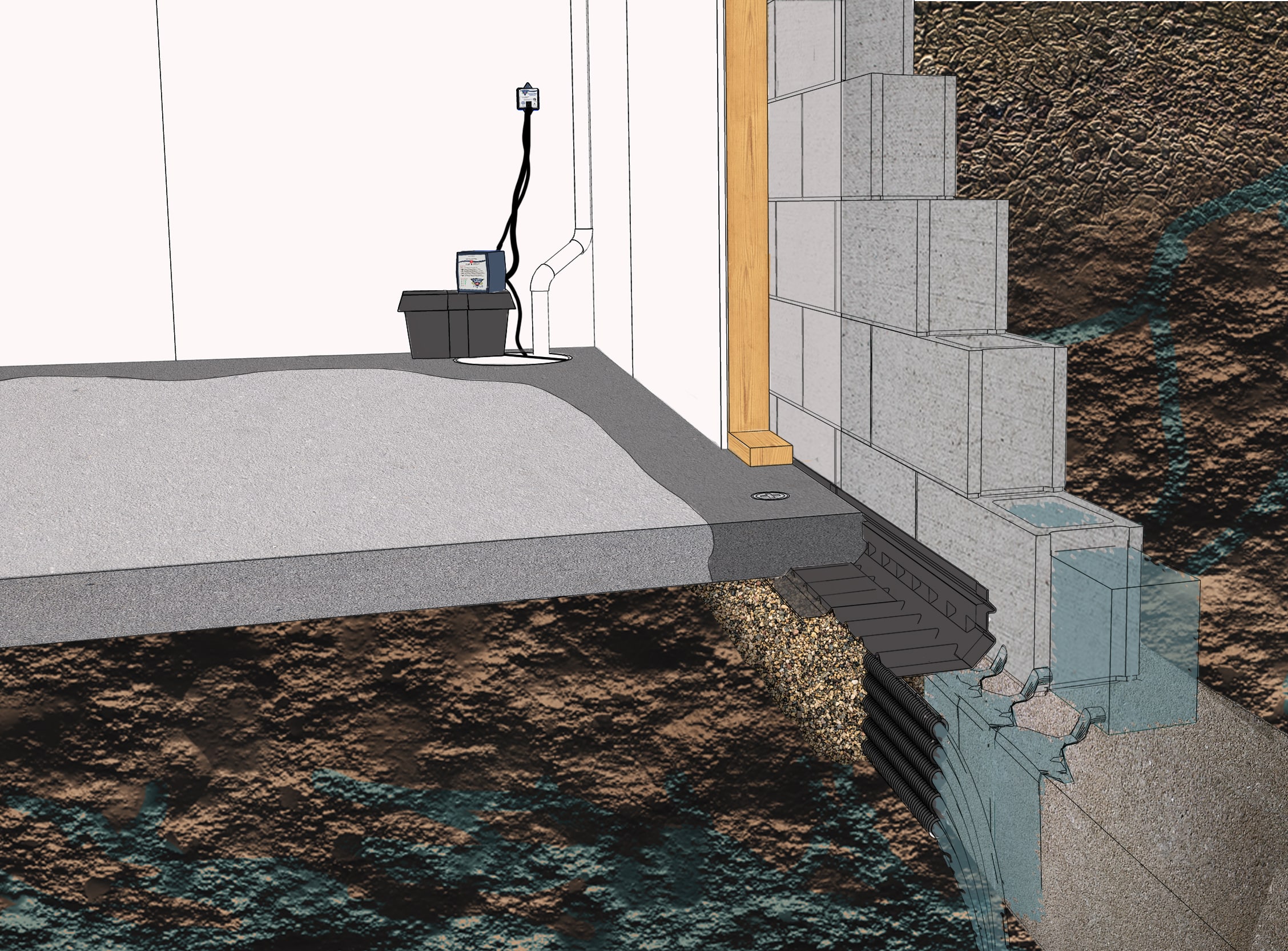 Dehumidifiers
At SafeBasements™, we have an array of basement dehumidifiers available that are energy efficient and highly effective at pulling moisture from basements. Our basement water mitigation specialists in Hastings, MN can help you pick the right unit for your basement, based on its size, to make sure the unit will be effective. With the right dehumidifier, you can avoid humidity-related issues, such as mold growth, insect problems, and wood rot.
Crawl Space Encapsulation
SafeBasements™ offers a Healthy Living Encapsulation System that creates a waterproofing solution for your Hastings home from a waterproof barrier between your crawl space and the surrounding environment. Even if you have a sump pump and drain tile system, an unsealed crawl space could result in additional moisture entry that can overwork those systems. If this area is not properly sealed, you may experience moisture, humidity, and insect problems. Our crawl space encapsulation system improves your home's energy efficiency and ensures that you'll never have problems with insects, mold, or wood rot due to excessive crawl space moisture.