Basement Water Mitigation in Fargo-Moorhead
Rainy days aren't few and far between in Hastings, Minnesota, and rapid spring snowmelt can sometimes be a deluge itself. After years of this, your home's concrete foundation can start eroding, developing cracks and foundation leaks that let small amounts of water in. If you've noticed a musty odor in your basement or any kind of basement water issues, call Hastings' foundation leak repair experts at SafeBasements™! From sump pumps to dehumidifiers and drain tiles, we offer Hastings homeowners proven solutions to keep their basements dry and their homes healthy.
SafeBasements Foundation Leaks SOLUTION:
Sump Pump/pit installation
Comprehensive Drain Tile System
Dehumidifiers
Crawl Space Sealing
SafeBasements™ ENGINEERED PRODUCTS THAT WE STAND BY
Sump Pump
The SafeBasement™ Sump Pump is an energy-efficient design that effectively collects and pumps water away from the foundation of your home in the Fargo-Moorhead area. This basement water mitigation service works to keep water away from the basement walls and to reduce the water table around the house and below the floor, as well as to enhance indoor air quality. Installation is done with a secure seal and cover to stop hazardous soil gases from entering the house. The sump pump container is equipped with a clear lid to make it convenient to perform inspections.
Drain Tile
SafeBasements™ has designed a state-of-the-art Interior Drain Tile System, with each component offering a benefit over standard systems. The SafeEdge™ channel has a rubber seal to stop moisture and radon gas from entering the home, and its wider profile allows more water to be channeled to the sump pit. Our Multi-Flow™ drain tile is installed around the basement footer and creates five stages of water flow to keep the water table low and to block hydrostatic pressure from damaging the foundation. Our Drain Tile System comes with a lifetime transferable guarantee.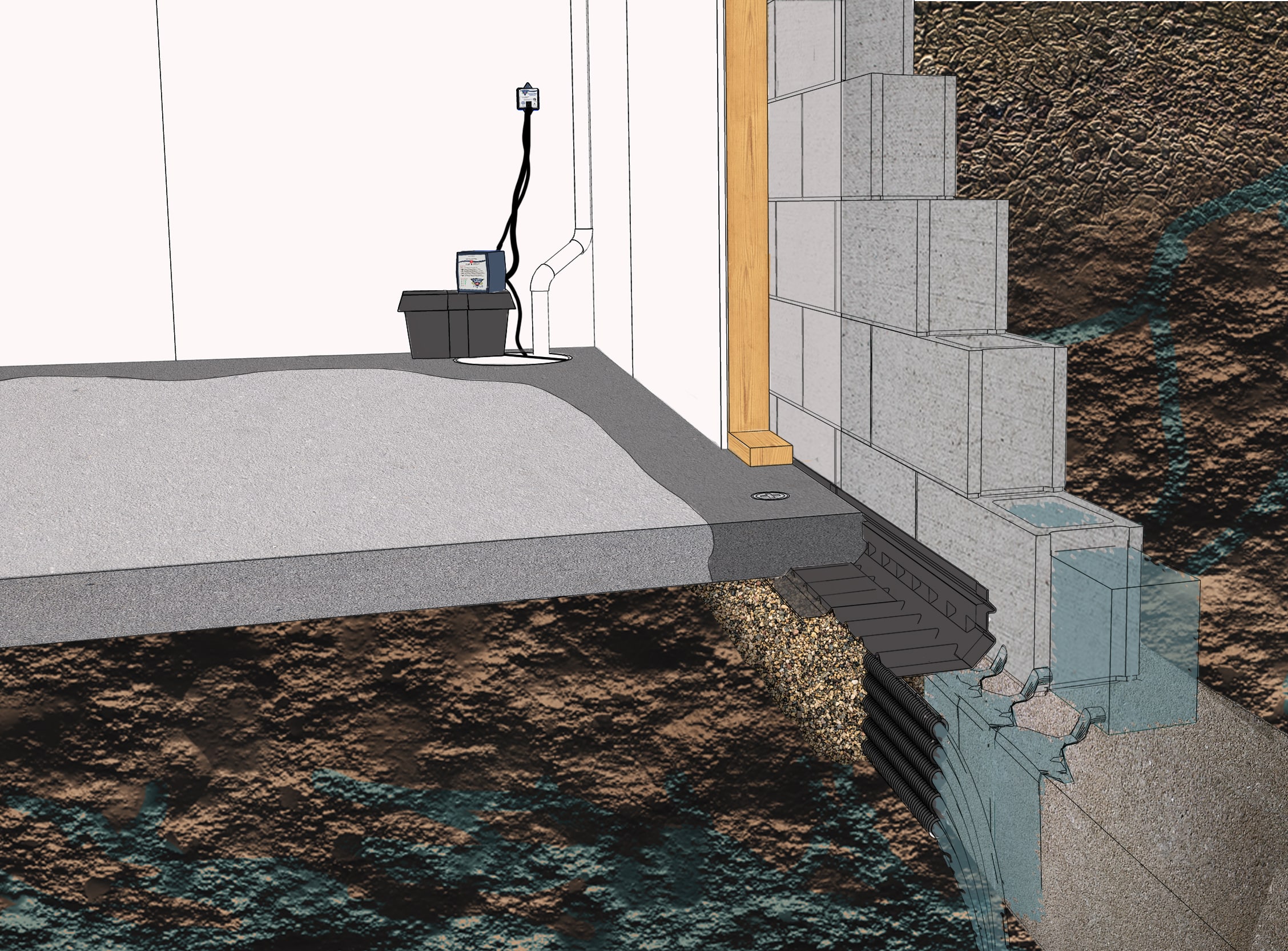 Dehumidifiers
SafeBasements™ offers a variety of proprietary dehumidifiers that can be quickly installed. These units can be set to automatically turn on when humidity reaches a certain level. As part of our waterproofing solutions for your Fargo-Moorhead home, we will help select the right one for your home, taking into account the size of the space. It is essential to make sure the model you choose is not too big or too small. With the dehumidifier in place, you no longer have to be concerned about hazardous mold buildup or any other issues that can result from it.
Crawl Space Encapsulation
At SafeBasements™, we use the Healthy Living Encapsulation System to seal out the environment below your crawl space. Unsealed crawl spaces are a typical source of excessive moisture or water intrusion, even if you have other waterproofing systems in place in your Fargo-Moorhead home. Our crawl space and basement water mitigation experts install a long-lasting, white vapor barrier to the walls and floor surfaces, ensuring that you never have to deal with insect infestations, wood rot, or mold problems in your crawl space again. The encapsulation system has the added benefit of improving your home's energy efficiency.